Emily Dame, M.Ed., Executive Director
Emily has experience providing counseling services to individuals and families, working with individuals with many different abilities, and specializes in Prader-Willi syndrome.  Ms. Dame received a BA in Psychology in 2009 and earned High Honors when completing her M.Ed. in Applied Behavioral Studies with Professional Counseling in 2012. She is passionate about advocating for equality for those living with disabilities. She believes that "living with vulnerability gives us the ability to give and receive unconditional love."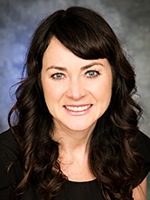 Leah Blalock, M.S., R.D., CSP, CDE, Nutritional Consultant
Leah is a Registered Dietitian with a Master's Degree in Clinical Nutrition from University of Michigan. Leah has been providing pediatric nutrition counseling for over 18 years and is a Certified Specialist in Pediatrics. Leah is also a Certified Diabetes Educator and has been an active member of the Department of Endocrinology multidisciplinary team at CHOC Children's Hospital since 2008. Leah provides nutritional counseling for children with multiple endocrine disorders and has a special interest in children with Type 1 and Type 2 Diabetes, Prader-Willi syndrome, Autism, and Down syndrome.
Katherine Crawford, Graphic Designer
Katherine has over a decade of respite care experience working with United Cerebral Palsy and similar organizations. Her connections with Prader-Willi syndrome started early: when she was four years old, her brother was born with PWS. As a sibling, she brings a unique perspective to the Prader-Willi California Foundation team. Though she moved out of California, Katherine continues to serve PWCF and the PWS community as our Graphic Designer.
Volunteers
June-Anne Gold M.D, MRCPCH, DCH, RGN, RMN, Medical Adviser
Dr. Gold is the mother of four grown-up children and grandmother to three beautiful granddaughters and a new grandson. She is a clinical geneticist initially trained in the U.K at St Bartholomew's and the Royal London hospital, London. Her specialist training is in pediatrics and genetics in London and Oxford. She moved to the USA with her husband Jon and two of her four children in 2004 for Jon's work. She has an interest in rare diseases and their natural history. Her passion has been for individuals with Prader-Willi Syndrome and the challenges they and their families face. She completed my genetics training in USA at UC-Irvine and her research has all been in PWS. She won the WSPR David W. Smith Trainee Research award for PWS research which she presented in February 2010. She is currently working as an Associate Professor in Pediatrics, Division of Genetics at Loma Linda University Medical Center CA where she sees patients in clinical genetics and teaches genetics to medical students.  Additionally Dr. Gold works as an Associate Professor at University of California – Irvine, where she also leads the only PWS Adult Clinic in California.  Dr. Gold served on the PWCF board for 6 years, and still serves as a Board member for the International Prader-Willi Syndrome Association (IPWSO).
Lisa Graziano, M.A., former Executive Director
Lisa served as PWCF's Executive Director from 2003 – May of 2017.  She currently  supports PWCF with various projects including family advocacy and support, behavior management workshops, writing the newsletter, and chairing the HCBS Task Force. Ms. Graziano holds a Masters degree in Clinical Psychology and is a Licensed Marriage and Family Therapist with a private practice. Her son with PWS is a Freshman at CSU Dominguez Hills.
Fran Moss, Former Executive Director; Board Member Emeritus
Fran served as PWCF's Executive Director from 1992-2002. Since 2002 she has continued to actively volunteer on multiple projects including serving as Newsletter Editor, chairing the Residential Services Committee, and has helped organize WALK events and conferences. Only recently has Fran become less active though she continues to volunteer when possible. Fran has an adult daughter with PWS.